The Ritz Carlton at Lake Oconee was filled to capacity for our Chapter's Annual Meeting, held November 19-21. Over 500 attendees, including 150 cardiologists and 48 exhibitors and sponsors, packed into the beautiful resort on yet another spectacular weekend.
Our program focused on four topics: Coronary Heart Disease, Heart Failure, Valvular Heart Disease and the Athlete's Heart. Our program was structured with an opening Keynote presentation and then a moderated panel discussion that included audience participation. Evaluations scored very high from our members for this panel format.
After a strong program on Friday we held our Fellows Poster presentations, reception and dinner.
---
Thanks to our sponsors for the poster presentations.
---
ACC President Mary "Minnow" Walsh kicked off the Saturday Program with an update from the national office. Our Program Directors' panel discussion shared a local view of cardiology. The session on valvular heart disease and the Athlete's Heart wrapped up Saturday's program and then an afternoon on the lawn was enjoyed by members and their families.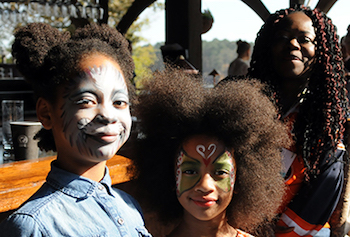 Saturday night we presented the Lifetime Achievement Award to Dr. Jere Lutz. Congratulations Dr. Lutz! We also had a great speaker, Rorke Denver. He shared his leadership experience as a Navy Seal serving in the middle east. HOOYAH!
To close out the evening we shared dessert and cocktails. Thanks to Boston Scientific and Medtronic for supporting our Saturday evening.
We appreciate our corporate colleagues who supported our meeting:
Abbott Vascular
Abiomed
Acist Medical
Actelion Pharmaceuticals
Aegerion Pharmaceuticals
Ambry Genetics
Amgen Cardiovascular
Astellas Pharmaceuticals
Astra Zeneca Pharmaceuticals
AtriCure, Inc.
BioTel
Biotronik
Boehringer Ingelheim
Boston Scientific
Bristol Myers Squibb
Children's Healthcare of Atlanta/
Sibley Heart Center
Cleveland Heartlab
Cryolife
Edwards Lifesciences
Emory Healthcare
Gilead
Grady Hospital
Janssen Pharmaceuticals
Lifewatch
Lilanova
LundBeck
MAG Mutual
Medicus IT
Medtronic
NE Georgia Heart Center
Northside Hospital
Novartis Pharmaceuticals
Osprey Medical
Pfizer Pharmaceutical
Philips Healthcare
Piedmont Heart Institute
Piedmont Healthcare
Portola
Regeneron
Sanofi
Siemens Medical Solutions USA, Inc.
Spectranetics
St. Jude's
Vascular Solutions
Wellstar Cardiac Network
Zoll Cardiac Management
Zywie