CVT NEWS BRIEF
From the CVT Council Member: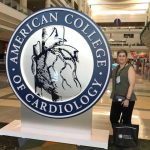 Welcome to our first Newsletter for the CVT Section of the Georgia Chapter of the American College of Cardiology. As a member of the Council it is my duty to represent the cardiovascular team members of our membership. I'd like to introduce myself.
I graduated from nursing school  in 1993 and began my cardiology career on the cardiology/telemetry unit and then moved to cardiac ICU. I worked for cardiologist Allen Mays, MD in the Athens Cardiology Group. I returned to the ICU when Dr. Mays was tragically killed in a car accident. I was appointed STEMI Coordinator and as a STEMI Receiving Center, we earned bronze, silver and gold awards. I was extended to include the role as Chest Pain Center Coordinator and we received accreditation and were the first NEGA to earn this accreditation. We also worked to earn accreditation as a Chest Pain Center with PCI and Resuscitation.
Currently I am the Registry site manager for all of our NCDR/ACC registries. I have been awarded by Piedmont system wide the "Hospital Values Award for Accountability". I am a Certified Cardiovascular Care Coordinator through the ACC.
Kathryn Davis, RN, CCCC
Sr. Patient Outcomes Specialist
Cardiac Cath Lab
Piedmont Athens Regional
Kathi.davis@piedmont.org
What is CVT's Role on the GA ACC Council?
Expectations of the CVT Team Section Council Member
Develop and implement effective team-based educational campaigns and initiatives – to generate increased awareness regarding the role of team professionals and how to effective leverage the expertise of the team to improve health outcomes.
Serve as a voice the multiple disciplines that comprise the CV Team membership and advocate for meaning engagement in all relevant organizational initiatives.
Foster relationships with relevant Councils/Committee, Sections, and external care team organizations to advance the role and professional development of non-physician clinicians involved in the care of patients with cardiovascular disease.
Design and deliver relevant education for CV Team professional, and disseminate knowledge on advances in effective team-based practice.
Serve as a resource for the ACC Board of Trustees, Board of Governors, and other leadership bodies, for strategic initiatives that are relevant to the CV Team Community.
Results of the Recent GA ACC CVT Survey
Topics ranked by need:
Region 6 News
We are in Region 6 and our Director is Jea Patton, RN, MSN, CRNP, from Maryland. Our Region includes: Delaware, DC, Florida, Georgia, Maryland, North Carolina, Puerto Rico, South Carolina, Virginia and West Virginia.
Georgia Chapter News
Sept. 30-October 2nd: ACC Legislative Conference, Washington, DC
Our members will be traveling to Washington and meeting with our senators and representatives in Congress.
Nov. 16-18: GA ACC Annual Scientific Meeting, Greensboro, GA
The plans and program are set and include sessions with keynote speakers and moderated panel discussions: Cardiogenic Shock; Diabetes and Cardiovascular Disease; Cardiology in Georgia; Stroke/Neuro Cardiology; Women in Cardiology; Imaging/Worried, Well-Patient; and Faux Pas to Fortune. We'll hear from ACC President Mike Valentine; FIT poster presenters; and the popular Cardiology Jeopardy.
Spring 2019: CVT Meeting To Be Announced
We're organizing a meeting specific to CVT members and our educational needs. Watch for details.
GA ACC Establishes Diversity Committee
Georgia ACC Diversity Committee Chair, Gina Lundberg
The Georgia ACC council is concerned about diversity in cardiology and the perception of cardiology article (JAMA Cardiology, 2018) that showed Internal Medicine residents have about cardiology as a career that we are not female friendly, family-friendly, or diverse.
The Georgia ACC Council is forming a Diversity Committee to reach out to all of the medical schools with residents and cardiology fellowships to try to develop long-term as well as short term ideas to address these concerns.
Some of these ideas have to do with mentoring and coaching. Also we want to organize gatherings where female cardiologist or cardiologists with stories of family life are willing to share their personal stories with residents. We would eventually like to reach out to premed students and even high school students who may be interested in a career in medicine.
The Georgia ACC Diversity Committee will have quarterly phone conferences to address these issues and collaborate on ideas and opportunities for the Georgia ACC Council to support.