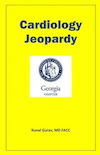 "FITJeopardy – Battle of the State Chapters" is one of the most popular events at the American College of Cardiology's Annual Meeting. International and State teams composed of Cardiology Fellows-in-training participate to win this coveted contest. Is a phenomenal learning experiences for both the participants and the audience.
This book is intended to help participants practice and win this competition. We have compiled the top 400 jeopardy-style questions for review.
This book can also be helpful for last minute review before the cardiology board exam!
All proceeds from the sale of this book support FIT's participation in ACC events. Order your copy today!
Soft cover: $24.99 E-book: $14.99 Free Shipping